Guide for New Students
Welcome to Georgian!
We know there's a lot to think about when you're a new student. So, we decided to gather up all this information in one place to help you navigate through fee payments, registering for courses, and more!
This Guide for New Students page is your one-stop-shop for all the important information you'll need as you start your first semester here.
Are you an international student? In addition to everything in this guide, we have some tips just for you too!
Don't forget to check out MyGCLife – your go-to website about student services. It's also where you can set your timetable, connect with student success advisors, stay on top of student news and more!
Admissions roadmap
You're here in your journey to becoming a Georgian student:
Contact the Registrar's Office
Tips
The Office of the Registrar is where you go to talk to someone about course registration, tuition payments, OSAP, credit transfers, and more.
Pay your tuition
Good to know
There's one deadline for paying your deposit and another for paying your tuition fees.
Domestic and international students have separate deadlines.
Visit our payment information page for details.
Check out Georgian's important dates
Tips
Deadlines
Pay attention to deadlines – don't risk losing your spot in the program, not being able to register for courses or having to pay a late fee by missing a payment deadline.
Events
Georgian has an events calendar so you can keep track of college events.
The Georgian College Students' Association (GCSA) also has a calendar so you don't miss fun events like bingo, trivia, artist showcases, etc.
Apply for financial assistance
Tips
Ontario Student Assistance Program (OSAP)
Financial Aid staff are here to help with information about OSAP.
Read through the FAQs on the Financial Aid page.
Apply for OSAP at least eight weeks prior to the start of your academic year.
Awards, scholarships and bursaries
Get college money you don't have to pay back!
More than $1 million is raised annually at Georgian specifically for awards and scholarships – this money is for you, take advantage of it!
Fill out one application per awards cycle to be automatically matched with all awards, scholarships and bursaries you are eligible for.
Register for your courses
Tips
When to register
Registration opens about one month before the term begins. To find out when your unique registration window opens, log in to Banner, go to Registration menu, and click on Check registration status. 
Banner login information
You'll need your student number to log in to Banner. If you can't locate it, you can email us your name, date of birth, address and program name and we'll send it to you.
Purchase your textbooks
Good to know
After you register for your courses, you'll be able to see your booklist in Banner by clicking on the View booklist link under the Registration menu.
Then, you can search for your books and supplies at Georgian Stores and place an online order. Georgian Stores' primary goal is to ensure students are able to obtain course materials when they need them, at reasonable prices. All financial surplus generated by the stores is reinvested in the college for the benefit of students.
Prepare for your placement and internship
Good to know
Some programs have specific requirements like immunizations or police checks. Make sure you know what is required for your program and if you don't understand the requirement, contact your program co-ordinator.
Get your Georgian student card
Tips
What is ONEcard?
ONEcard is the official Georgian identification card. Its features extend far beyond a simple ID – it's your student card, library card, athletic centre card, and a convenient payment for select on-campus and off-campus vendors – all in one! For Barrie students, it's also a universal bus pass (UPass).
Submit your photo online
If you're a first-time card holder, you can submit your photo online!
Try to get your student card early so you can cross it off your to-do list.
Get to know Georgian systems
Tips
Chances are you're pretty good with technology but it's still a good idea to get to know our systems before you get too busy with classes, assignments and, well, fun!
Your student email account is important because it's the way we will communicate with you – make sure you check it often.
Microsoft Office 365 is Georgian's student email system.
Login information:

After confirming your offer to a Georgian program, you will have received a confirmation letter or letter of acceptance identifying the login and default password for all student systems.
Part-time students who have registered for individual courses through Continuing Education will receive this initial password to the preferred email provided after completing Georgian's student number application.
If you have forgotten your login or password, please reset your password using the password management service or contact IT Support.

To check Georgian email on your phone or tablet, download the Microsoft Outlook app. Other email apps may not work with your student email after July 29, 2022.
Banner is our student information system – it contains your records, contact information and, once you register for your courses, your timetable.
Blackboard allows you to communicate with your teachers and classmates online. You'll be able to submit assignments, work on group projects and receive important information. There's also a free Blackboard mobile app.
You'll use GeorgianConnects to find co-op, internship, part-time, contract, on-campus and graduate jobs.
Navigate is our student system to help you:
know when important dates deadlines are coming up
connect with the support you need (easily!)
make your own to-do list and set reminders
stay ahead of any roadblocks
get the most out of Georgian with tips and connections
It costs nothing to download the Navigate mobile app on the App Store or Google Play, or use the desktop version.
MyGCLife is your one-stop shop!
See your timetable, connect with your student advisor, stay on top of student news and more!
Use the same instructions to log in as for your Georgian student email.
Use MyPath to ensure you take the right courses at the right time
MyPath can also help you navigate program requirements and prerequisites
Multi-factor authentication (MFA)
Multi-factor authentication adds an extra layer of security to your Georgian accounts to keep them safe from hacking and phishing scams.
All students must register for MFA to access important college platforms including Blackboard.
Visit MyGCLife to learn how to register your account with one of three methods.
Orientation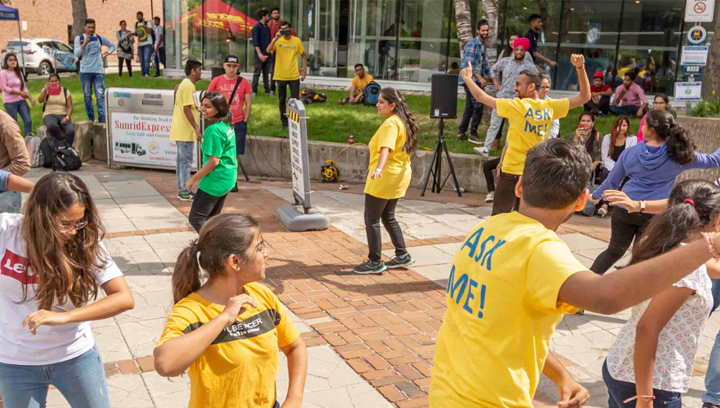 Tips
There's so much to do when you're a new student, you probably don't know where to begin! Why not start with a Head Start event?
We can't say enough how important it is to take part in Orientation. Why? Because it's a proven fact that students who attend orientation feel more connected and get a better start.
Want help transitioning into college life? Sign up for a peer mentor! You'll be matched with an upper-year student who will show you the ropes.
Getting to campus
Explore your options
Transit
All seven campus communities have transit systems. Several municipalities also offer bus routes between communities.
Parking
Choose to buy monthly, semester, or annual campus parking permits. At the Barrie Campus, you can also pay by the hour or day. There are currently no paid parking systems at Orangeville and Muskoka campuses.
Walking or cycling
Consider living in residence or close to campus. Bike racks are available at all campuses except Orangeville.
Modules
Tips
We've built online modules to help you succeed as a new Georgian student. Each of these modules can be found in your list of courses in Blackboard in the weeks leading up to the start of the semester.
First Year Experience module – recommended
Academic Integrity module – required
Conversations in Mental Health @ Georgian module – required
Find a place to live
Tip
Georgian has lots of options for living both on-campus and off. Keep in mind that we don't inspect off-campus housing listings so make sure you check out the place thoroughly before entering any kind of rental agreement.
Stay healthy
Tips
Fitness centres
Stay active in our fitness centres at the Barrie, Orillia and Owen Sound campuses, or take advantage of Georgian Fitness on Demand

.
Varsity athletics
Cheer on or try out for the Georgian Grizzlies, Georgian's varsity athletics teams.
Food services
Check out your on-campus food and beverage options , as well as off-campus vendors who accept the Georgian ONEcard.
Policies to be aware of
Good to know
Smoking-free campus
Georgian is a smoking-free institution. You can't smoke anywhere on Georgian property. If you're a smoker, please plan your time on campus and allow time to smoke off site.
Recreational cannabis
Recreational cannabis use is prohibited on campus. Students or staff who require the use of medical marijuana are required to produce documentation.
Sexual violence
Georgian strives to maintain a campus free of discrimination and harassment. We have a process of investigation that protects the rights of individuals and holds individuals who commit an act of sexual violence accountable.
Campus closures
Sometimes weather conditions lead to campus closures. Be aware of which channels to follow for news about campus closures.
Georgian College Students' Association
Good to know
The Georgian College Students' Association (GCSA) is your student voice on campus, dedicated to enhancing student life.
Remote and hybrid learning
Good to know
Supports available for remote and hybrid learning
New to online or hybrid learning? We've prepared a remote and hybrid learning toolkit with lots of great resources to help you succeed. Whether your program is fully online or you have in-person components, check out these resources and find out how to get support remotely or in person.
When in doubt, ask for help
Good to know
Georgian staff are here to support you in your academic journey. Here is a list of a few people and places you can refer to for help.
Additional information for international students
Tips
Here is helpful information you need to get started on your journey to Georgian and to Canada.